England were expected to win the first test and nothing went beyond those expectations, with England securing a comprehensive victory over the Caribbean side. England, undoubtedly, would be looking forward to winning the series, which would inevitably lead to consolidating their status as the numero uno of test cricket, which is under some threat, of late. Needless to say, West Indies are also hungry for a win, looking to end their winless streak.
Likely Team
I don't see a need for England to change their team. While some may raise questions over Bairstow's selection, the fellow has huge talent and one shouldn't judge a player based on their debut. Steven Finn might be a choice in place of Bresnan, who had to struggle to get his one wicket in two innings, however, Finn cannot be a lower order batsman like Bresnan and in the way, the latter fellow adds more value to the team. If I were to select the side, I'd field an unchanged side.
Likely XI : Andrew Strauss ( C ), Alastair Cook, Jonathan Trott, Kevin Pietersen, Ian Bell, Jonathan Bairstow, Matt Prior, Tim Bresnan, Stuart Broad, Graeme Swann, James Anderson.
The Key Players
Considering Andrew Strauss' century in the previous game, could be said as an indication that Strauss is returning to form. He is a highly competent test batsman, balanced and can hit at a good strike rate and hence, if he is in form, he is definitely a huge asset to the team and has the potential to make the opponent's chances look bleak. Another key-person from the batting department is Kevin Pietersen. His recent performances haven't been up to the mark but the moment Pietersen walks into the crease, the bowler is always intimidated by the fact that his delivery might be hit out of the park any time. Once he is on fire, the game is put beyond doubt.
From the bowling department, I'd pick out only one, that is, Stuart Broad, the local lad. He has just had his ten wicket haul in the previous match, and I'd say that this fellow is nearly as dangerous as Dale Steyn and is one of the best at bowling bouncers, which is very difficult to play, given the conditions at England at the time of the year. He has been the most consistent bowler of the side, irrespective of the surface or location and I think he'd just maintain his level of consistency in the coming game.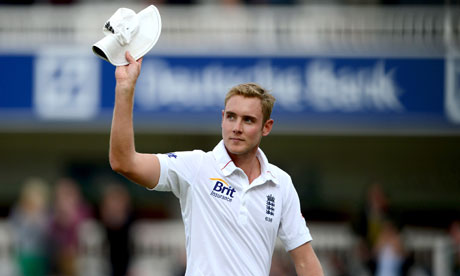 West Indies
Likely Team
It was a disappointing performance from West Indies in the previous game, with only two experienced men, Chanderpaul and Samuels managing to put some runs on the board. Further more, they've also plunged into an injury crisis, with their debutant Shannon Gabriel having to withdraw. A silver lining in this is that it paves way for Shane Shillingford, whose Murali style action had extreme success in the recently concluded series against Australia. Shillingford coming into the squad is inevitable, as West Indies need at least one specialist spinner in the side, as the part time spinner in Marlon Samuels proved to be ineffective. When it comes to batting, I'd definitely prefer Deonarine over Powell, as Powell hasn't had much success recently and Deonarine deserves his chance. Besides, the selection of Deonarine would give more bowling options to Darren Sammy.
Likely Team (More than likely, I'd say, 'ideal') : Adrian Barath, Kirk Edwards, Shivnarine Chanderpaul, Narsingh Deonarine, Darren Bravo, Marlon Samuels, Denesh Ramdin, Darren Sammy, Kemar Roach, Fidel Edwards, Shane Shillingford.
The Key players
For West Indies to have some chance of winning this match, their most important player, undoubtedly, is Chanderpaul. His weird stance makes it difficult to bowl to him and he is someone who has been successful nearly everywhere against every team. However, a good performance from Chanderpaul alone would not be enough to guide the team to the finish line, as seen in the last few matches. Apart from Chanderpaul, Samuels too, must use his experience to help the team put up a decent total.
The bowling unit, all of them, Roach, Sammy, Edwards and Shillingford must perform, particularly, the fast bowlers, given the conditions at Trent Bridge. The speed-trio have the talent, but I felt they didn't have the tactics and in the previous test, I found their deliveries to be far too straight, with hardly anything tricky, such as a yorker or a bouncer. The trio must exploit the conditions and their pace, in order to maximise their chances of winning.
Prediction
West Indies' form has been poor and one man cannot bring them out of their crisis. Considering, England's strength at their home and also, their recent comprehensive victory against India at Trent Bridge, they definitely start as favourites. It would be interesting to see how West Indies put up a find against this strong English side.
I predict a victory for England, which would be far more comfortable than that of the previous game.
Have a nice day,
Andy