When Alec Stewart retired from test cricket in 2003, England plunged into a wicket-keeper crisis.

There had been several wicketkeepers who had tried becoming a permanent replacement in all the three formats of the game. Geraint Jones, who, finally looked on to become the permanent keeper, was also dropped eventually after he went totally out of form. From Alec Stewart to Matt Prior, no less than eight wicket-keepers have kept wickets for England – James Foster, Chris Read, James Foster, Eoin Morgan, Paul Nixon, Phil Mustard, Vikram Solanki and Tim Ambrose (I might have missed out some names).
Considering this turmoil in the English cricket team on deciding the person for the important job, a few years back, people would have just laughed at the suggestion that England might soon have a very good pool of wicket-keepers and a cut-throat competition going on in between the members of this pool. Surprisingly, that is the situation right now.
ENGLAND'S POOL OF WICKET-KEEPERS
MATT PRIOR
The first time I had heard of Matt Prior was when he was picked up as a specialist batsman in 2006 against India, when Geraint Jones was the main keeper for England. Matt Prior managed to send a strong message to the selectors and finally managed to make a test debut at 2007 against West Indies and scored a century. Although his wicket-keeping, initially was not up to the mark, he eventually managed to improve his skills by experience and his abilities with the bat turned out to be vital, in England's hunt for the number 1 test position. His aggression, ability to rotate strike and ability to bat under pressure have often saved England in crucial situations. He has the ability to support top order batsmen and create a good partnership and at the same time, take support from tail-enders and creating big partnerships.
In my opinion, Sangakarra and Prior are the best wicket-keeper batsmen in the longer format of the game, right now. So, is he the obvious choice for the position till he retires?
CRAIG KIESWETTER
The young wicket-keeper batsman, Craig Kieswetter has been a top level T20 and ODI batsman, known for his "controlled aggression", his well timed shots (my personal favourite is the cover drive over mid-off) and ability to provide a "kick-start" the middle order batsmen in the shorter formats of the game. His heroics in the 2010 T20 World Cup and Prior's failure at the 2011 World Cup let to Kieswetter replacing Matt Prior as the first choice wicket-keeper for the shorter formats of the game. However, with Kieswetter constantly improving his overall game, Prior's "assured" place in the test side has come under threat from Kieswetter and I think it is only a matter of time before Kieswetter makes his test debut, at least as a specialist batsman. I feel Kieswetter has the potential to be close to an Adam Gilchrist (think big!) and his presence in the team in the limited overs games might prove vital for England.
STEVE DAVIES
Nearly the same age as Kieswetter, made his international debut even before Kieswetter, plays good off-side shots but his inability to make the ball go over the fence has put him behind Kieswetter in ODIs. However, he still has the time, his first class average shows that he has the ability, and I'm sure, that Davies too, could have a strong case in his favour for a test debut.
JOS BUTTLER
Jos Buttler, has recently got into the ODI and T20 side, as a specialist batsman. Although he has hardly managed to create an impact at the international stage, his records in the domestic limited overs format shows that he has tremendous potential. With Morgan's form going downhill, Buttler might soon manage to cement his place as a lower-order specialist batsman in ODIs and T20s. Chances of a test debut as of now might seem out of the box, it might soon happen in the near future.
JONNY BAIRSTOW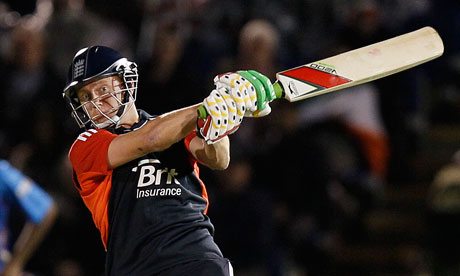 Jonathan Bairstow, the Yorkshire batsman, has wicket-keeping abilities in his genes. His late father, David, had played test cricket for England his young soon has shown that he too has the ability to do the same. He has managed to enter the international arena, only as a specialist batsman and has also managed to justify his place tag by playing some good knocks in the T20 format. He is a player, who is aggressive but orthodox and thus, I feel has a very good chance of making a test debut in the near future.
Modern cricket demands every keeper to have good batting abilities and every player to be good at fielding as well. Having these kinds of players as batsmen would definitely boost the fielding strength and can also help the team survive under any crisis. Most teams lack a good wicket-keeper backup and having these keepers in your bench is definitely an asset. As of now, Prior is the undisputed keeper in test cricket and Kieswetter is the undisputed keeper in the limited overs format but I think it would only be a matter of time before the competition between these players turns out to be "cut-throat" as my title suggests.
Have a nice day,
Andy