All good things must come to an end
What comes into one's mind when they hear the name Ricky Ponting? His magnificent leg-side shots, the most successful captain ODI cricket has ever seen, a player who rises to the occasion, arguably the greatest batsman of his time among several others. Unfortunately, nothing lasts forever, and that is the case with someone even as great as Ponting. His ODI career has come to an end, not the way in which Ponting fans from around the world would have wished, though.
Unfortunately, I've had the privilege of watching Ponting play only for ten years (I was hardly an year old when Ponting made his debut) but, I've found these ten years more than enough to judge that Ponting was the greatest player in his time (time has come, when people have to use the past tense for this great batsman). In these ten years, no batsman has managed to give me greater viewing pleasure than what Ponting has done and I've always looked at my television set with awe, when he executes the hook shot and on drive so perfectly or when he takes a low catch at gully / mid-off with such ease. Some of the knocks of Ponting still stay in my mind, as though it had been played only yesterday, and I nearly remember it ball-by-ball (such as his 140* in the 2003 World Cup final, his 164 against South Africa in 2006) and the law of diminishing returns has never taken its course when it comes to watching Ponting play over and over again.
Ponting has not just been successful in areas where performance could be quantified, but has always been successful in the qualitative dimensions of the game such as leadership. He has arguably been the greatest captain in the ODI format. Even if someone argues that he isn't, nobody can deny the fact that he has been the most successful one. The records which he has achieved as a captain are difficult to be matched, such as leading the side, undefeated in two World Cups and the winning streaks which he has achieved.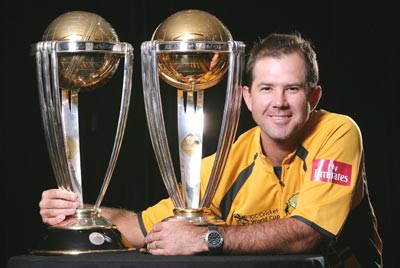 There might be fans who might reject Ponting's status as a legend in the game because his records might not be as great as that of his closest competitor, the Indian batsman Sachin Tendulkar. However, I believe one must not judge a player just by records and must also see when the player has performed, in order to acquire these records. Ponting's forte was that he always rose to the occasion and such a player is more valuable than a run machine. Although, he doesn't appear to be one, he too had been a run-machine and at his peak, that is, the decade 2000-09, he was the highest run-getter in both the formats (Dear reader, correct me if I'm wrong, I remember to have read this in a sports journal in 2009). Thus it could well be argues that Ponting, indeed has been the greatest batsman of his time, even above Sachin Tendulkar and Jacques Kallis.
Like in the case of any great person, there had been controversies in the past over his attitude towards umpires and opponents. However, I really hope that in due course, these things would be forgotten. After all, nobody is perfect and what shall always be remembered is that he has been the nemesis of fast bowlers, his aggressive style of play, his fielding abilities, captaincy and elegance in his shots.
Ponting's ODI career has not ended the way in which his admirers would have wished it to end, he didn't end it on a high and was in fact sacked but what Cricket Australia (CA) selectors have done must be appreciated. The selectors have set an example on how a player must be purely judged on performance and not just on reputation. I hope the Indian selectors, in particular, must realise this. They must take a call on like Sachin Tendulkar, Rahul Dravid and VVS Laxman have delivered all that they could and there is hardly anything left in them. It was a courageous decision by the Australian selectors and it takes greater courage to honour that decision without creating a controversy and Ponting definitely has to be appreciated for that.
Now, the question that will arise is, who is going to replace Ponting? The problem is that this can't be solved with one answer. Two questions arise out of this question, that is, who is going to replace Ponting the player and Ponting the leader. Ponting the leader was replaced long ago in mid 2011 with Michael Clarke but will he be able to carry on with the legacy left behind by Ponting? He has made a good start, and has shown that he is a highly victory oriented person and so, there is a good chance that Michael Clarke will lead the team equally well. For replacing the batsman, there are a lot of choices. In the ongoing Commonwealth Bank series, the 26 year old Peter Forrest has shown a lot of promise and has already made two important half centuries in three one day internationals. Mitchell Marsh, is young and has started playing international cricket at around the same age when Ponting did and he too is a good choice although he needs a little more experience to bat at number three. Nic Maddinson, has represented Australia A and is another very talented batsman and I feel it is only a matter of time before he plays an international match. Temporarily, till the young players mature, Clarke may have to take up the responsibility and start batting at number three. I hope, Australia manage to find a perfect replacement for Ponting soon, if not immediately.
Every cloud has a silver lining and that is true even in the case of Ricky Ponting's ODI retirement. Fortunately, he has not retired from international cricket altogether and will continue to provide his services to the test side and I hope he continues his good form in the longer format of the game. I hope, ESPNCricinfo add the tag "Legends of Cricket" in Ponting's profile soon. Ponting is also lucky to have lived in the video era, something which Bradman didn't have and so, his brilliant knocks could be accessed over and over again for generations to come. A true legend's lustrous ODI career has come to an end but his game shall always be remembered.